Warranty Policy
5 YEAR VITREOUS CHINA WARRANTY
Porcelana Corona de México, S.A. de C.V. guarantees to the original purchaser that its product is free of manufacturing defects or ceramic defects for a period of five (5) years from its date of purchase.
1 YEAR WARRANTY ON FILL VALVES AND 6 LPF / 1.6 GPF FLUSH VALVES
3 YEAR WARRANTY ON DUAL FLUSH VALVES AND 4.8 LPF / 1.28 GPF FLUSH VALVES.
Under the terms of this warranty, Porcelana Corona de México undertakes to replace this piece, or any part, component and/or accessory that is proven to contain manufacturing defects, provided that the defect is not result of the mishandling of the material or faulty installation. To obtain warranty service contact:
Customer Service in the
The following information is required:
•             Description of the defect
•             Photographs of the defect and of the installed unit showing the problem (without uninstalling the unit)
•             Proof of purchase and date of installation.
In the case of leaks or broken tanks the following information is also required:
•             Barcode of the defective unit (shown on the back of the tank)
•             Photographs of the following components without uninstalling them:
                -  Tank bolts (2), Metal washers (2), Expansive rubber washers (2), Bolts (2)
•             Photographs of the inside of the tank (showing the complete tank)
EXCLUSIONS
Porcelana Corona de México, S.A. de C.V. shall at no time be liable for consequential or incidental expenses and/or damages or of any other nature whatsoever resulting from improper installation or caused by negligence, abuse or deliberate alteration, nor for damages caused as a result of the original purchaser not taking the necessary precautions in order to avoid such damages when the defect occurred in the product.
The warranty of products sold by other suppliers through Porcelana Corona de México S.A. de C.V. shall be limited to the warranty extended to Porcelana Corona de México S.A. de C.V. by said suppliers. This warranty does not cover faults or damage to accessories and/or components of the tank as a result of the use of chloramines or large concentrations of chlorine in the treatment of public water supplies or as a result of the use of tank cleaners containing a high level of chlorine, calcium hypochlorite or other chemical compounds, such as cleansing tablets that are placed inside the tank.
Some U.S.A. states and some Canada provinces do not allow limitations regarding the duration of a warranty, and others do not allow exclusions or limitations regarding consequential or incidental damages, thus the above limitations may not apply to you. This warranty provides specific legal rights to the original purchaser and said purchaser may have other rights, which may vary between states/provinces. (This paragraph does not apply in Mexico)
No distributor or person is authorized to change or add concepts, or to create any warranty or obligation, other that which is set forth herein.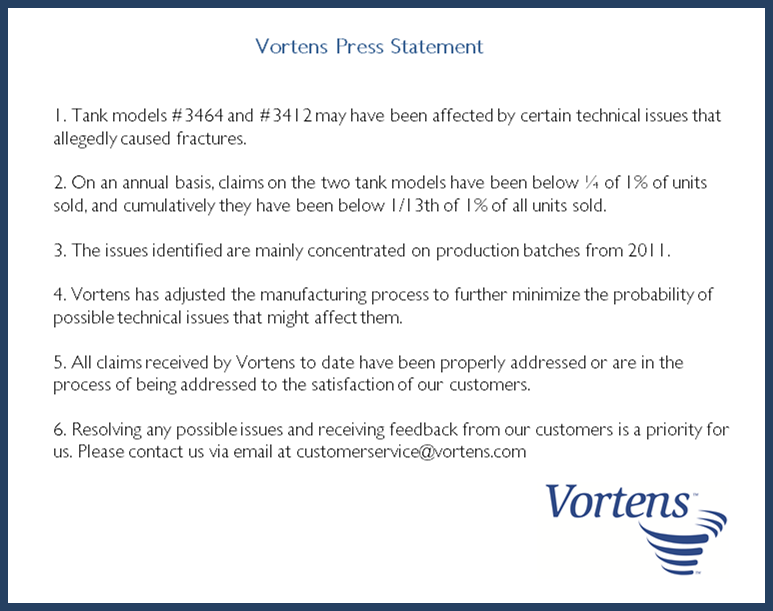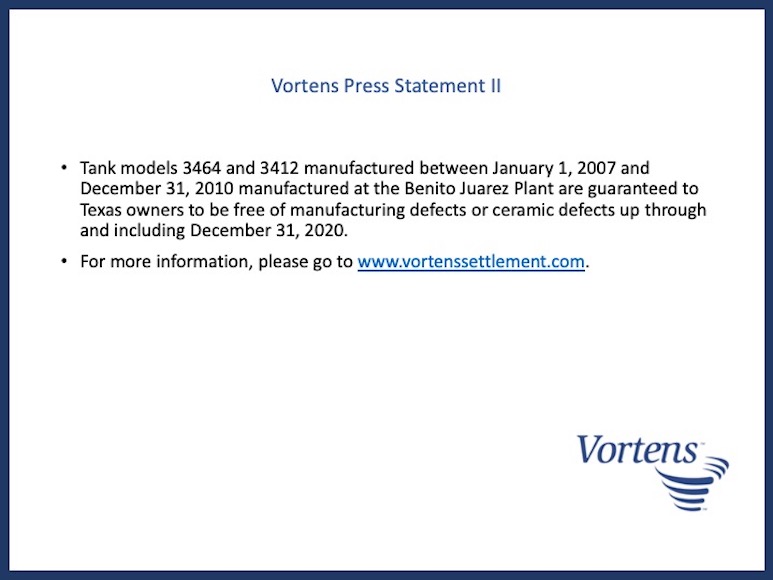 CLASS ACTION SETTLEMENT AGREEMENT AND RELEASE

VORTENS Corporate Office:
Porcelana Corona de México S.A. de C.V.
Félix U. Gómez 4047 Nte.
Monterrey, N.L., México 64510
Phone: 1-866-821-2811
Fax: 011-52 (81) 8125-2054
Email: claims(at)vortens.com